2018 Annual Report
Acorn's 2018 Annual Report is available to view by clicking the image below.
It has been a transformative year for the Acorn Foundation, as we passed $23.0m in funds under management with more than 300 endowments established. This year also marked the Foundation's 15th birthday, and the farewell of General Manager, Nicky Wilkins, who has served since 2006. Lori Luke joined the team as the new GM and looks forward to helping our generous donors continue to make meaningful contributions to the community that will last forever.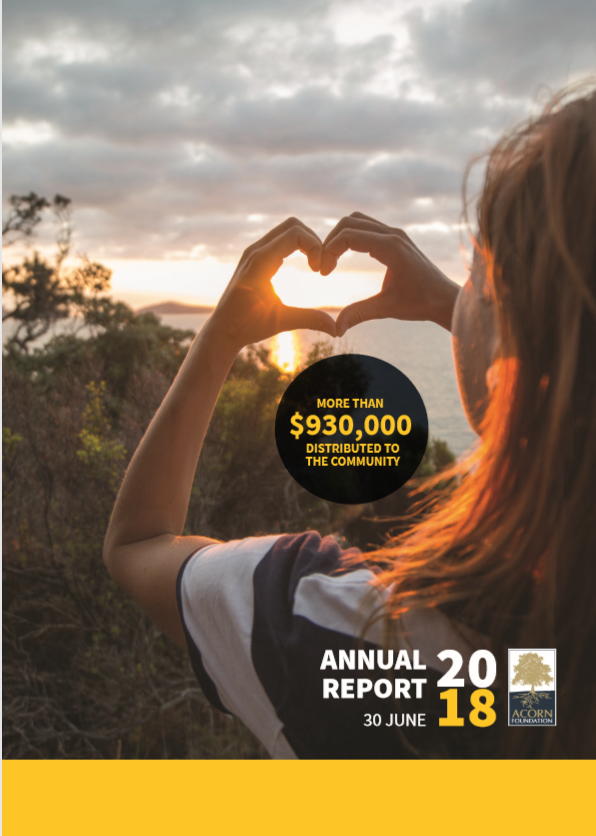 2017 Annual Report
We are pleased to present the Acorn Foundation's Annual Report to 30 June 2017.
We are thrilled with the growth of the Foundation since its inception in 2003 and are now seeing real momentum. Our success continues to attract more donors who want to leave a lasting legacy for this community, many of whom have started giving during their lifetime. In our 2017 Annual Report, we profiled some of the donors whose funds have now become active and shared stories about some of the organisations who received funding from Acorn in 2017.
To access the report, please click on the image below.