06 Sep 2023
Acorn Foundation announces funding of over $3.3M for the community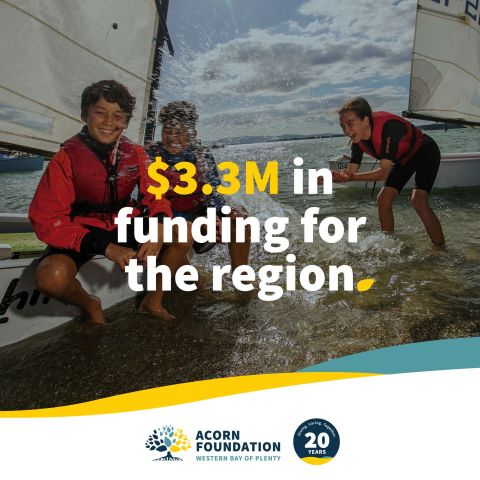 In light of difficult economic conditions and the end of extra central government funding available during the COVID-19 crisis, 226 different charitable organisations and scholarship and award programmes will be thrilled to receive their share of $3.3M from this year's Acorn Foundation's distribution funding round. This total reflects a nearly 10% increase in community support over 2022.
It is Acorn's 20th year of supporting local charities on behalf of their generous donors. Acorn's cumulative gifts to the community since its founding in 2003 now exceed $16.5M, and with funds under management currently surpassing $63M, Acorn's donors will be positively impacting the Western Bay of Plenty region for decades to come.
Acorn Foundation's Chair, Lesley Jensen, says "$16.5M is an amazing amount of money to be distributed since the Acorn seed was first planted in 2003. We are extremely proud of the work of each of our recipients and grateful for the trust of every donor."
To celebrate Acorn's 20th year, the foundation showcased the extraordinary generosity of Acorn's donors and the lasting benefit of their gifts to the community through a photographic exhibition located on the Strand in the heart of Tauranga. This beautiful exhibition was created in partnership with UNO Magazine and their award-winning photographer, Alan Gibson. The photographs can be viewed on Acorn's website and in UNO Magazine's 60th issue.
Although Acorn is well-known in the Western Bay of Plenty as the organisation where you can leave a gift in a will, there is no one-size-fits-all when supporting our region. Additional ways to contribute include living gifts, resettlements of family or community trusts, regular giving into Community Group funds, as a member of a Giving Circle or Workplace Giving programme, through a corporate gift to designated charities, or as TECT beneficiaries who donate their rebates to the Acorn Vital Impact Fund. The foundation distributes its endowment fund grants to community organisations each September, while scholarship and award programmes and pass-through giving occur all year round.
This year, the increasingly high cost of living has made food security for locals a major concern. Endowment gifts from the A Simpson, Mary Sutherland and Stewart Trust funds were made to Tauranga Community Foodbank, while the D&M Bassett, C&P Peat and T Woodman funds all supported the increased need for food parcels at The Hub Te Puke.
Tauranga Community Foodbank Manager, Nicki Goodwin, was appreciative of the extra support this year, saying, "These donations will assist us with buying food to provide nutritious food support for people who would otherwise have nowhere else to turn. Unfortunately, we have seen a growth in demand for our service as the cost of living is affecting many people who would normally not need our support."
Several of Acorn's Giving Circles also identified food security as a concern, with the members of Sally's Angels Giving Circle choosing to split their $7,000 donation between food rescue charity Good Neighbour and Tauranga Community Foodbank.
Simone Gibson, General Manager at Good Neighbour, said, "The donation will be used to respond to community needs through our Food Rescue and Urban Mahi Projects as these are the most pressing needs we are seeing at the moment."
The Acorn team work closely with donors to identify areas to support that are closest to their hearts. Sometimes these decisions involve choosing specific charities or tagged distributions. Other donors identify fields of interest (i.e., the environment, animal welfare, youth development) or decide to leave their funds unrestricted. These areas of interest funds and unrestricted distributions are allocated by Acorn's volunteer Distributions Committee, made up of Acorn Foundation Trustees and committed locals with a deep understanding of the issues facing our region.
Acorn Foundation CEO, Lori Luke, says "We are so appreciative of the unrestricted and soft-tagged funds we receive, as it allows Acorn to support the many dozens of local organisations that provide valuable services to our community that most residents never hear about."
One example of an organisation receiving funding for the first time is Aquatic Survival Skills Trust. The trust was set up in 2022 with the vision to deliver survival skills in all aquatic environments to our community through primary schools. To achieve this vision, they train local Educators to deliver the Aquatic Survival Skills programme in local primary schools. The Educators train the teachers alongside the children and provide resources for children's ongoing learning as part of their health curriculum.
Aquatic Survival Skills Trust Board member, Ali Wieringa said, "We are grateful to Rei Preston-Thomas, and the anonymous donor for their kind donations to support the work our trust does to provide water survival skills through our schools."
In addition to Acorn's grants being distributed to the community in September, this month also marks Wills Month, when community foundations around New Zealand partner with local law firms to promote the benefits of supporting the community in a will. Sixteen firms in the Western Bay of Plenty are offering to include a gift to the region through Acorn in their clients' existing wills at no cost.
A full list of the Acorn Foundation's 2023 Distributions can be found here.