20 Aug 2020
Acorn Foundation community distributions top $1.75M this year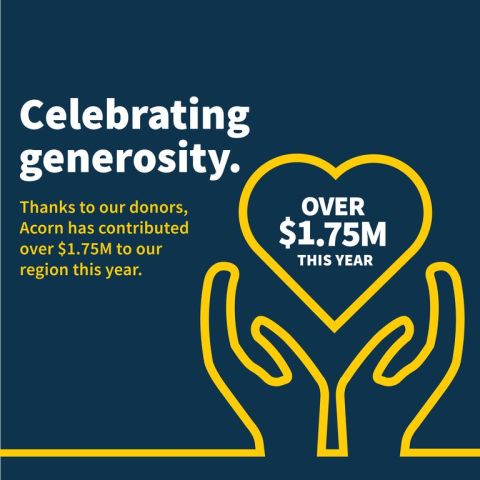 Acorn donors have contributed more than $1.75M to the community in the past 12 months, up more than 50% on last year. This significant growth in distributions is driven primarily by the resettlements of trusts and an increase in local business support for charitable organisations. The addition of this year's contributions means that generous Acorn donors have now cumulatively distributed more than $8.3M since 2003 to causes in the region that are close to their hearts.
Acorn Foundation General Manager Lori Luke said 157 charitable organisations across New Zealand, with a strong focus in the WBOP, have received grants throughout the year. Distributions outside the Western Bay of Plenty have been specified in donor wishes.
"These community contributions come from estates, living gifts, trust resettlements, Community Group funds, Giving Circles and Workplace Giving programmes. Our team truly appreciates the opportunity to make these distributions on behalf of our donors who have such a big heart for our community. The recipients that have been selected this year provide essential services to our region, and we are delighted that we can help our donors contribute to their efforts."
This year, the addition of seven Bob and Joy Owens Scholarships that have moved to Acorn via the resettlement of the Owens Charitable Trust and two new scholarships for students at the University of Waikato Tauranga campus, means that over $310,000 will be paid out via scholarship and award programmes. These awards include the $57,000 Jann Medlicott Acorn Prize for Fiction at the Ockham NZ Book Awards, Page/Acorn Engineering Scholarships, Outward Bound, Dale Carnegie Youth Programme, arts, sports and international travel awards, and a variety of educational scholarships that ensure young people who excel are assisted in their studies.
Over the years, 266 charities have been supported by Acorn donors. Several notable recipients this year include Omanu Surf Livesaving Club, which has received over $43,000 from the Karen Pensabene Fund, and Waipuna Hospice, which has received more than $104,000 from the contributions of eleven different donor funds. With local charitable organisations impacted by the effects of COVID-19, both from a reduction in funding available and in an increase in service demand, their appreciation for Acorn's donor support is stronger than ever.
Wendy Lobb, Salvation Army, said, "Thank you again for this wonderful gift from Acorn Foundation via your donors. We continue to be humbled and grateful for these vital funds that assist us at the front line of our work, and in particular this year, knowing these funds provide us with the opportunity to add the much needed resource of dedicated peer support to our team working in the addictions space in Tauranga – this is very exciting for us, and we know we can better serve the community with this added resource."
Although Acorn is well-known for receiving gifts via endowment funds in Wills, there are many other ways that their donors support the community. Craigs Investment Partners donated $150,000 last Christmas which Acorn distributed to organisations across New Zealand on their behalf, and Craigs, KPMG and BOP Regional Council have all established Workplace Giving programmes for their staff. Other local contributions this year included the following: employees and partners at Cooney Lees Morgan have long raised money for their corporate fund; ASB Tauranga contributed money to help Good Neighbour buy new equipment; TECT beneficiaries have donated rebates worth more than $68,000 to the Acorn Vital Impact Fund over the past two years; and many local supporters contributed to the COVID-19 Rapid Response Fund to help organisations providing vital support during the lockdown. In addition, dozens of regular givers donate to the more than 40 Community Group funds managed by Acorn, helping those organisations move towards sustainable long-term funding.
Acorn Foundation Chair, Lesley Jensen says, "We so appreciate the support that our many donors provide to the community through Acorn. With such a strong increase in distributions relative to a year ago, we know that the Acorn Foundation is making a significant difference to the lives of people here in the Western Bay of Plenty. We are honoured to represent our donors--modest, thoughtful New Zealanders who have such a tremendous love for the place where they live."
A full list of the Acorn Foundation's 2020 Distributions can be found here.