03 Nov 2021
The FAME Trust selects two award winners from University of Otago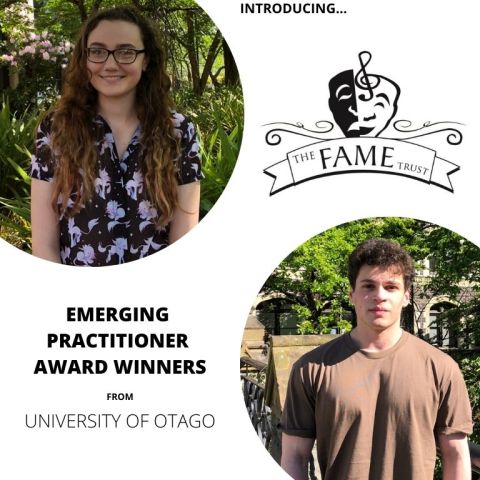 The FAME Trust, in partnership with the Acorn Foundation, is pleased to announce its selection for the Emerging Practitioner Award at the University of Otago.
The university is one of six performing arts institutions across New Zealand which were each provided with a $10,000 award to offer students who have completed at least their first year of study in acting, music or dance. Due to the high calibre of the applicants from the University of Otago this year, the trustees have selected two winners for 2021: Abhinath Berry and Jordan Wichman.
Classical pianist and composer, Abhinath Berry (pictured above right), is a local Dunedin student who completed college at Otago Boys' High School. Although he had limited musical training in his youth, Abhinath's rapid progression has stunned his tutors. He has won all prizes offered by the University of Otago's School of Performing Arts and is the recent recipient of the university's Outstanding Achievement to Arts and Culture.
Head of Classical Performance, Blair Professor Terence Dennis, describes Abhinath's development as exceptional in every way.
"His examination recital at the end of 2021 was awarded the highest mark we have given since my appointment to this position in 1981, and his regular appearances in public concert contexts are testament to this remarkable talent. His dedication and potential are exemplary," says Dennis.
Jordan Wichman (pictured above left) is originally from Auckland and completed her secondary education at Albany Senior High School. She has acted in productions since she was a very young child but Jordan is now firmly focused on stage directing and design. Her goal is to become a professional stage director and create work that integrates music, dance, circus and technology into physical theatre.
Professor of Theatre Studies, Stuart Young, says Jordan has emerged as a truly interdisciplinary theatre-maker, with skills traversing dance, music and theatre for her Bachelor of Performing Arts.
"That interdisciplinarity has distinguished the work she has done for her Diploma for Graduates and her Master of Arts. Through the combination of these two qualifications, she is broadening and deepening her knowledge and skills, while also displaying commendable artistic flair and boldness as well as intellectual curiosity."
Professor Anthony Ritchie, Head of the School of Performing Arts at University of Otago, says The FAME Emerging Practitioner Awards offer the selected students not only money and publicity, but a real morale boost as they strive towards establishing careers for themselves in the arts.
"In addition to helping with student fees and living costs, the awards bring the students to the attention of the arts scene in Aotearoa and signal that these are practitioners who are worth watching out for," says Ritchie. "The University is proud of these students and what they have achieved and is glad of the opportunity the FAME Awards provide."