06 Apr 2021
Former pupil encourages love of learning at Katikati Primary School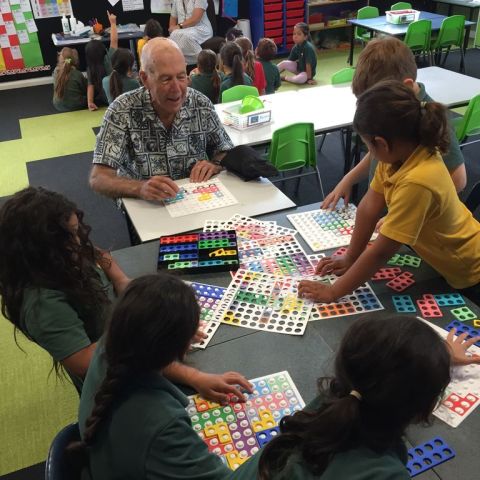 Who knew that making a birthday cake out of playdough could be a Maths learning exercise?
The Junior classes at Katikati Primary have been totally embracing their new Numicon maths equipment and curriculum, which brings a whole lot of fun together with a whole lot of learning. Thanks to the generosity of local man Alan Goodyear – himself a pupil at Katikati Primary in 1941 – the junior classes are absolutely loving learning maths, without even knowing that it's happening!
DP in charge of the junior school, Anne Morriss, says "We have wanted to introduce Numicon into the Year 1 and 2 classes for the past few years. We were all aware of the benefits of Numicon in making Maths real through the purposeful use of structured apparatus that supports thinking, conversations, inquiry, play and problem solving."
"With Alan's support of funds to resource this programme our dream is now a 'happening thing.' Staff are already seeing the benefits and gains in the children's learning when working with the Numicon shapes, rods and activities."
Alan visited the school recently to see how the Numicon programme works inside the classroom and was delighted to see even the New Entrants class were totally absorbed in the fun, colourful equipment that makes learning literally like child's play. Staff are equally enthusiastic about Numicon and say that it is already making a difference to how quickly the children are picking up concepts of numbers and sequencing. The Numicon programme uses a very hands-on approach to children's learning, which makes it fun and appealing to all levels of learning in the junior school.
Alan Goodyear set up a fund with the Acorn Foundation in 2017 that will continue to support Science and Maths learning at Katikati Primary School, as well their Remedial Reading programme. He takes a great deal of pleasure from seeing the difference that this support is making to children's learning – and how much fun they are having in the meantime.
The Acorn Foundation has been working with generous donors like Alan Goodyear to support local organisations working in areas of interest to them since 2003. For more information on how you might support the community you love, please contact us on 07 579 9839.