10 May 2021
KPMG selects first Workplace Giving recipients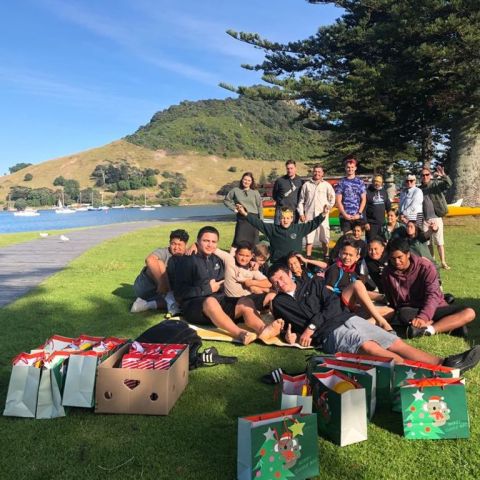 The KPMG Tauranga office has been running a Workplace Giving programme with Acorn since last year. Their internal Giving Committee has recently selected their first recipients, aligned with KPMG's corporate citizenship focus of lifelong learning for youth: Te Aranui Youth Trust and Blue Light Western Bay.
Blue Light works in partnership with the police to deliver an extensive range of youth programmes and activities, including the annual Kids Gone Fishin days, Take a Kid Flying, PCT competition, Blue Light bangers and the popular Youth Driver Navigation programme. They also provide opportunities for local students to attend the national life skills camps run by Blue Light and the Defence Force. Programmes and events delivered to the youth are designed to help them to reach their potential and build positive relationships between police, young people, their whānau and community.
Te Aranui Youth Trust run programmes to inspire and challenge vulnerable youth to make safe and positive life choices. The youth are referred through the Police Youth Development Team, Ministry of Education and local schools. By surrounding these young people with great role models and challenging activities that increase, encourage and support their behaviours and decision making, they can assist them on a positive path to a better future.
KPMG Tauranga's Office Managing Partner, Glenn Keaney, says, "Personally I have had a long association with Acorn, serving as a Trustee from 2011 to 2019, with four years as Chair. I understand first-hand how much good Acorn is contributing to the community, so when the opportunity arose to be an early adopter of Acorn's Workplace Giving programme, we signed up. The benefit is that over time we can help make a real difference to our community and the youth involved in these initiatives, which, in the longer term, supports our purpose of fuelling New Zealand's prosperity. The programme also helps us create a culture of philanthropy and adds to the team spirit in our Tauranga office. We hope that as the programme continues, more of our team will see the value it brings and join in."
Lori Luke, Acorn Foundation General Manager, says, "Acorn is so pleased to provide support to the KPMG Tauranga team to pass their Workplace Giving funds directly to their chosen charitable organisations. Employee contributions are taken out of their fortnightly pay, with the 33% tax credit applied at the time. An employee who donates $10 per paycheque will get the benefit of nearly $15 per pay period due to KPMG's company matching programme, while it only costs that employee $6.66 after the tax credit. Collective giving in this manner means that the benefit to the community adds up quickly."
"Although Acorn has long been known as the organisation to which generous locals leave endowments to the Western Bay of Plenty, we now have many other ways to support our community, including Giving Circles, Workplace Giving, Corporate Giving and regular gifts to one of the more than 40 different Community Group Funds. The Acorn team enjoys working with thoughtful businesses like KPMG to support causes of importance to them".
For more information on how you might support the community you love, click here.