17 Nov 2023
Music student at Te Herenga Waka - Victoria University has been selected as a FAME Trust award recipient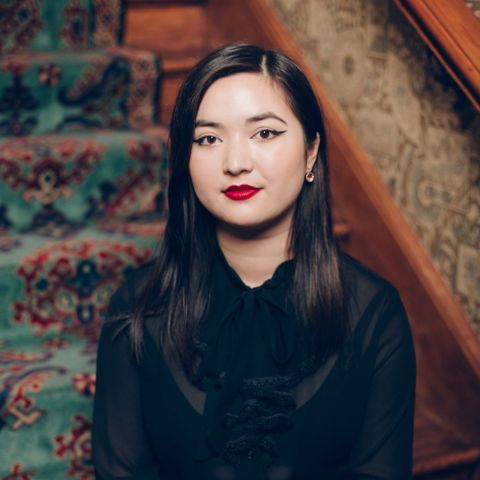 The Acorn Foundation and the trustees of the FAME Trust are pleased to announce the selection for the 2023 Emerging Practitioner Award recipient at Te Herenga Waka - Victoria University. Seven promising students are selected each year from top-rated performing arts schools in New Zealand to receive $10,000.
This year's promising student from Te Herenga Waka - Victoria University is Cadence Chung, a talented poet and musician. Cadence is a sought-after and award-winning classical performer with a long list of solo performances under her belt. In the Wellington Regional Vocal competitions this year, she won the Graham Gillespie Cup for the highest overall marks and the Raymond Simanaeur Memorial Trophy.
Senior Lecturer, Margaret Medlyn, Cadence's teacher was overjoyed to know that her gifted student was selected as this year's award recipient. "Cadence is a gifted poet, student, and musician who I've had the pleasure of teaching for the past two years. I'm delighted the FAME Trust has seen in her what I see, and I have no doubt of the extraordinary achievements their support will allow her to achieve."
Cadence has organised and performed in many musical endeavours including her critically acclaimed musical In Blind Faith, which was put on at the BATS Theatre in August 2022. The musical tells a story of New Zealand's history that focused on underrepresented voices, highlighting the talents of the cast and crew with a queer and Asian representation. Cadence went on to organise the Cud-Chewing Country: New Zealand Poets and Composers Convention, a musical that was aimed to facilitate conversations between composers and poets.
Cadence was honoured to receive the 2023 FAME Emerging Practitioner Award, which will support her current studies in Classical Voice and English Literature and further her career.
"I'm constantly striving to not only improve myself as a poet, composer, and classical singer but also trying to uplift others through art, highlighting underrepresented stories. It means so much to be recognised for my work and I hope I can continue to expand my creative practice in innovative, authentic, and interdisciplinary ways," said Cadence.