17 Aug 2023
Support what you love, now and forever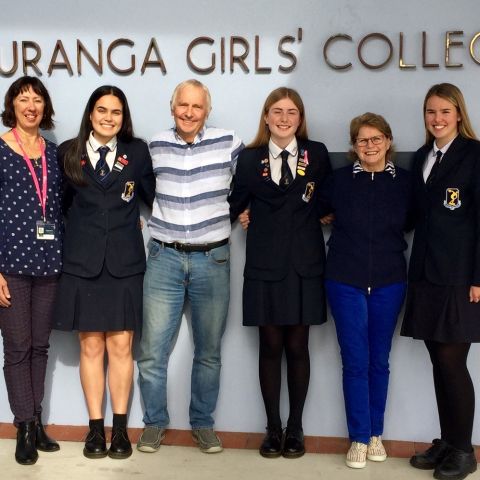 People can gift through Acorn during their lifetime and see their generosity unfold before them as well as leave a legacy in their will. This is exactly what Kevin and Jean Walters have done. They wanted to ensure that their vision was realistic, sustainable and would make a real difference within the community.
In 2011, Kevin and Jean decided to set up an endowment fund with Acorn to support travel for young ones that may not normally have the opportunity to experience travel. With this in mind, they set up a pilot Tauranga Girl's College International Travel Award. Their reasoning for setting up an endowment fund with Acorn was clear, "We wanted to ensure the money we have worked hard for over the many years, goes towards something meaningful on an ongoing basis in the community"
The main rationale behind Kevin and Jean Walters setting up the award was having had the opportunity to travel to over 30 countries and experience living in a number of those countries and understanding the life-changing experiences that came with that. This scholarship is administered by the Acorn Foundation to assist students to travel and broaden their outlook on life. The couple has a strong connection with Tauranga Girl's College with their daughter having attended the school, and the family has hosted upwards of 20 international students.
In total, five students have benefitted from the scholarship to date. It was unfortunately put on hold during the Covid-19 years due to travel restrictions however distributions were made to other worthy causes. The couple is interested in continuing a similar scholarship so more young people can travel or attend developmental programmes when they might not have otherwise been able to afford it. The perpetuity nature of the Acorn Foundation will ensure that the award is administered over future years.
Three of the recent recipients who received the Tauranga Girls College Travel Award in 2019, went on to their respective endeavours; one student attended the 2020 United Nations Global Development Tour and the other two attended a school trip to Borneo.
Kevin and Jean believe the most significant benefit of giving through Acorn is that it is a gift in perpetuity. It is not a one-off gift; they know it will continue to provide support to young people, forever. Their daughter, Celine supports her parent's decision to leave a gift in their will. She recognises that there are needs in the community and appreciates the benefits of her parents' gift.
"The benefit of giving through Acorn is that it is ongoing and so easy. Acorn is a strong organisation with roots in the community, and we know that our gift will go exactly where specified" the Walters stated.
If you haven't yet considered providing a legacy for the local community in your will, Wills Month in September is the ideal time to organise your wishes.
Learn more about Wills Month here.