15 Mar 2023
University of Waikato Tauranga campus scholarships awarded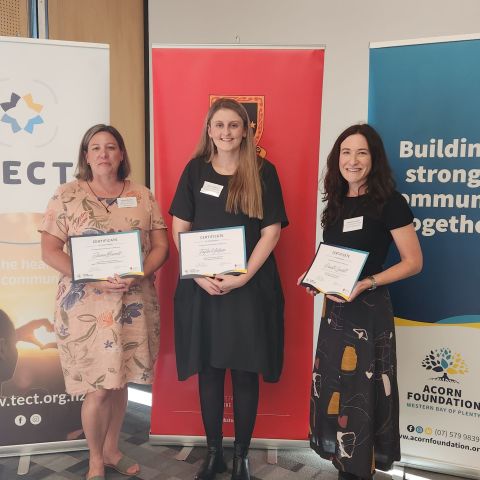 Congratulations flowed on Tuesday evening for 19 local students from the University of Waikato Tauranga campus. These awards are provided by Acorn Foundation donors and by the trustees of the TECT to help students afford the costs of tertiary education.
The first scholarship from Acorn was the Acorn Foundation Beverly Perszyk Scholarship, which was awarded for the first time in 2019. This award is intended for a student who is the first in their family to go on to tertiary study and who has successfully completed at least one year at university. This year's winner is law student Ashley Heads. Ashley started working at a law firm at 17, and now in her 30s, she has completed three years of law school while working fulltime. Ashley is passionate about employment law and is only one year away from finishing her degree.
"It hasn't been easy, but it makes it so much easier when you're passionate about what you do for a living, and that's what makes you get up at 4am in the morning to study," said Ashley.
The next scholarship was the Acorn Foundation Kenneth Perszyk Senior Adult Learner Scholarship, established in 2021. This award is for the financial assistance of adult learners (40 years and over) during any stage of their study at the undergraduate or postgraduate level at the University of Waikato Tauranga campus. This year's winner is single mother, lifelong Girl Guides supporter, and Head of the Languages Department at Tauranga Boys' College, Sharon Barrett. Sharon has taken a year's leave from full-time work to complete a Master's degree with Honours in Education, specialising in language and literacy.
The Acorn Foundation Adult Learner Scholarship was established by an anonymous donor in 2019 who is passionate about the benefits of higher education. This year's winner is Danielle Goodall. A life-changing experience in 2019 sent Danielle onto a new path. She was working as Marketing Executive for White Island Tours when Whakaari/White Island erupted, and having experienced heartbreak, loss and tragedy, she is now determined to study Psychology to help others survive their hardest times.
In 2007, the Acorn Foundation Eva Trowbridge Scholarship was launched, and it has up to now assisted 15 adult students, 25 years and older, to undertake studies through the University of Waikato Tauranga campus. We are pleased to announce that Taylor Hodgson is our 2022 winner. Taylor is studying Psychology, and she is in the final year of her Bachelor of Science degree. Taylor has a passion for helping those suffering from eating disorders and has a goal to open an Eating Disorder Recovery Centre in Tauranga.
"Acorn's generous donors are proud to support areas of the greatest needs in our community and many are also committed to rewarding excellence. These women are incredibly deserving recipients of these four scholarships, and we are thrilled to be able to provide a hand up as they undertake study at the University of Waikato Tauranga campus," said Lori Luke, Acorn Foundation CEO.
TECT trustees now support two types of scholarships at the University of Waikato Tauranga campus. The First-in-Family awards are designed to help students who have no family members who have previously enrolled in tertiary study to afford university expenses. Returning Student scholarships are intended to provide support for second or third year students to continue with their studies.
Wayne Werder, TECT CEO, says that the trust is proud to support students in our local community. "Study expenses have continued to increase, and we are really pleased to be able to provide financial awards that help top students afford the cost of university."
Congratulations to all of the Acorn Foundation and TECT University of Waikato Tauranga Campus scholarship winners!