12 Nov 2021
We're hiring!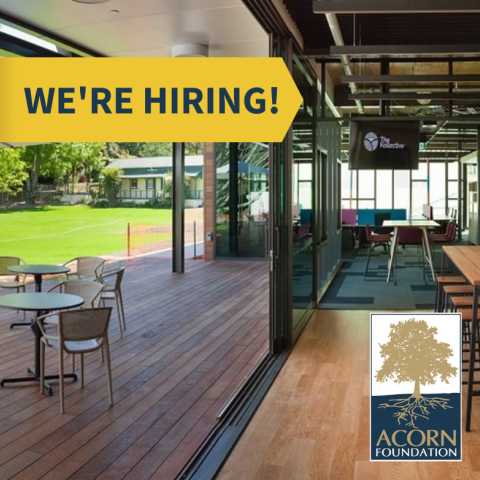 Looking for a meaningful opportunity to jump start your career?
The Acorn Foundation is looking for a full-time Foundation Assistant to join our small and busy team. The foundation's very rapid growth has led to the creation of this new position. This entry level job will be perfect for a candidate with plenty of enthusiasm, excellent time management skills and a desire to work for an organisation that is making a significant difference in our community.

Acorn is a community foundation based in the Western Bay of Plenty, with a mission is to make an enduring difference in our region by connecting generous people who care with causes that matter. Acorn is one of 17 community foundations across New Zealand that provide a unique way of charitable giving. Our smarter giving model involves pooling and collectively investing our donors' funds, so that the capital in the fund remains intact, while a portion of the income is distributed annually to the local community. This means that our donors' gifts continue to give back to causes close to their hearts, forever. Thanks to our generous donors, Acorn has now contributed more than $10M to the community since 2003.

Our new Foundation Assistant will be based at The Kollective on 17th Avenue, Tauranga, with the rest of our team and will report to the CEO. We offer a 40 hours per week schedule, which will include some evenings, early mornings and weekends, as necessary. The salary for this role will be in the $25-$27.50/hour range.

Primary responsibilities include:
Answer the office phone and respond to any email inquiries.
Take and distribute minutes and information packs for Board and Committee meetings.
Coordinate presentations to service clubs and professional advisors.
Work with the Operations Coordinator on the CRM database, including setting up new funds and keeping professional advisor files up to date.
Help the Marketing Specialist keep the website and social media platforms current.
Assist the Donor relations team with recipient reporting and distributions management.
Schedule meetings in-person and via zoom, ensuring that calendars are kept current.
Assist with function preparations and event executions.
Help with physical and electronic mailings.
Personal attributes desired:
Present a positive and professional demeanour.
Exhibit a high level of energy and a passion for the community.
Ensure a healthy respect for confidentiality and privacy.
Sensitively work with a diverse group of people, respecting all cultures, religions and backgrounds.
Work well independently and as part of a team.
Use personal initiative, follow through on tasks and meet assigned deadlines.
Pay a high level of attention to detail.
Exhibit a learning orientation.
Show an appreciation for, and understanding of, Te Ao Māori.
Technical skills required:
Hold a university degree or have applicable work experience in administration or operations.
Exhibit excellent written and spoken communication skills.
Display proficient time management, prioritisation and organisational skills.
Demonstrate strong computer literacy – particularly in Microsoft Office Suite – and have an understanding of how a CRM database works.
Show competence with managing calendars either personally or for volunteer or paid work.
Have experience assisting at events.
Hold a full driver license.
How to apply:
We'd love to hear from you if you have both the right to work in New Zealand through citizenship/permanent residency in New Zealand or Australia, or an existing work visa that is valid for at least two years from February 2022 and the required skills listed above.
Please send a copy of your CV and a separate cover letter that highlights your administrative, operational and Marketing (paid or volunteer) experience and describes your interest in working for the Acorn Foundation, to Lori Luke, CEO, at info@acornfoundation.org.nz.
Applications for the Acorn Foundation Assistant position are due no later than 5:00pm on Friday 26th November 2021.
Download the full job description here.
All applications that meet our criteria will be acknowledged but only the finalists will be interviewed.
More information about what we do and who we help can be found on our website or our Facebook page.