31 May 2022
2022 winners selected for the Page/Acorn Engineering Scholarship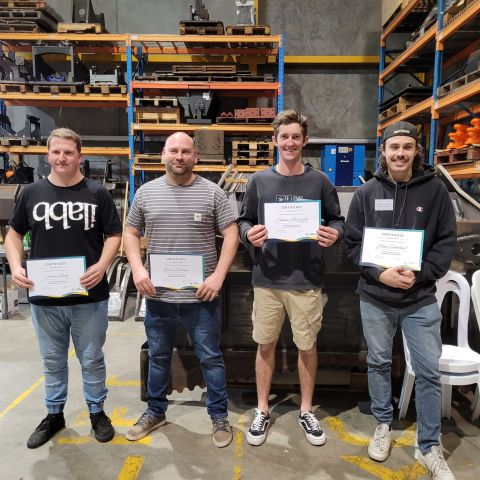 The Acorn Foundation is pleased to announce the recipients of the 2022 Page/Acorn Engineering Scholarship. The scholarships are awarded annually to second-year apprentices at local engineering firms, thanks to local Acorn donors Bob and Pat Page. Recipients and their respective workplaces will receive funding for two years to assist with expenses and equipment.
Congratulations to the following recipients, who were presented with their awards at an event at Robert Page Engineering on Thursday 26 May:
Brad Matthews, Judea: Robert Page Engineering
Cameron McGuffie, Pyes Pa: Contract Mechanical Services
Jordan Stacey, Te Puke: Page Macrae Engineering
Jamie Sutherland, Pāpāmoa Beach: Impact Engineering
Bob Page co-founded local firm Page and Macrae Engineering in 1953 and was always passionate about seeing young people succeed. Acorn Foundation CEO Lori Luke says that his legacy lives on through this scholarship:
"Every year it is an absolute privilege for us to award these scholarships. Bob and Pat Page left a valuable, lasting gift to our community, and they would be delighted to know that their fund continues to support deserving local engineering apprentices."
Find out more about the Page Acorn Scholarship and past winners here.