21 Jan 2022
TECT beneficiaries support the community once again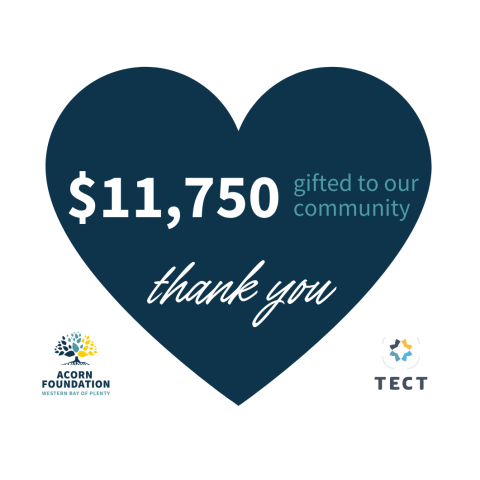 The Acorn Foundation would like to say a huge thank you to the TECT beneficiaries who generously donated their December rebate to the community via the Acorn Foundation. More than $11,700 was donated to the Acorn Vital Impact Fund, which supports organisations working in the areas of greatest need in the region.
In 2021, the Acorn Vital Impact Fund supported the following local organisations:
Dress for Success – whose mission is to empower women to achieve economic independence by providing a network of support, professional attire and the development tools to help women thrive in work and in life.
Katikati Community Centre – a not for profit organisation offering information, services and support to meet the needs of the Katikati community in the areas of health, education and well-being.
NZ Council of Victim Support – provides a free, nationwide support service for people affected by crime, trauma, and suicide in New Zealand.
Tauranga Budget Advisory Services – offers free advice and help with budgeting skills to individuals and families across the Tauranga region, educating and empowering them in better money management.​​​​​​​
Takitimu House – provides homeless men in the Bay of Plenty transitional accommodation and access to services designed to break the cycle of homelessness and offer hope of a better future.
Tauranga Women's Refuge – provides specialist domestic violence crisis intervention and support services for women and children experiencing domestic violence, who need safety and protection.
This is the third year in a row that TECT beneficiaries have had the option of donating their rebate to the Acorn Vital Impact Fund. The Acorn Foundation is so appreciative of this ongoing partnership with local funder TECT, which provides an easy way for charitable people to give back to worthy causes in the WBOP.
Acorn Foundation CEO Lori Luke says, "The generosity shown by TECT beneficiaries will make a real difference to these hard-working community groups and those they serve. Their contribution will support these organisations to continue providing life-changing services to vulnerable individuals and whānau in our community. Thank you to TECT and their kind beneficiaries for their on-going support."
Find out more about donating to the Vital Impact Fund here.