02 May 2022
The Western Bay of Plenty Vital Signs® Youth 2022 report is out now!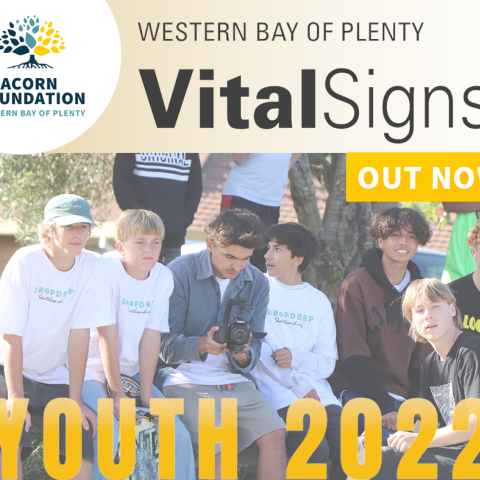 Today the Acorn Foundation released new research into supporting rangatahi (youth) in our region to thrive.
The Western Bay of Plenty Vital Signs® Youth 2022 Report was launched this morning in an online event featuring local MP and Associate Minister for Education, Jan Tinetti, along with representatives from youth-focused charities working across the region.

The report uses data collected and analysed by the Acorn Foundation and local research agency Growth Development Ltd to provide a rich insight into the challenges, opportunities, and collective priorities for supporting young people aged 14-24 in the WBOP.

Acorn's Donor and Community Engagement Manager, Margot McCool, says the foundation hopes the insights presented in the report will help to guide, inspire and support local charities, service providers and policymakers.

"The Acorn Foundation strives to be a catalyst for strengthening community well-being, now and for future generations, by promoting generosity, creating partnerships and supporting diverse charitable organisations that are truly making a difference. We hope this report will help to identify how best we can deliver the resources our youth need to live lives that they value. They are our future."

Thanks to the generosity of local donors, including the late Roy and Mary McGowan, the Acorn Foundation distributes a substantial pool of funds each year directed at supporting young people in the Western Bay of Plenty. This report is the latest in a series of research reports provided by the Acorn Foundation since 2015, which aims to better understand our communities' needs in order to deliver impactful funding.

Acorn Foundation CEO, Lori Luke, says the completion of Vital Signs® research over the years is just one of the ways the foundation helps donors make a bigger impact in their communities.

"Acorn donors are local people who care deeply about our community. Some of our donors name specific charitable groups to receive annual distributions from their Acorn endowment fund, while others leave the decision up to our volunteer Acorn Distributions Committee. Our Vital Signs® research helps the Distributions Committee to identify where the real needs in our communities lie, so that our donors' gifts can have the biggest impact possible."

Read the full report here.