06 Oct 2021
Congratulations to the 2021 Jann Medlicott Creative Arts Scholarship recipient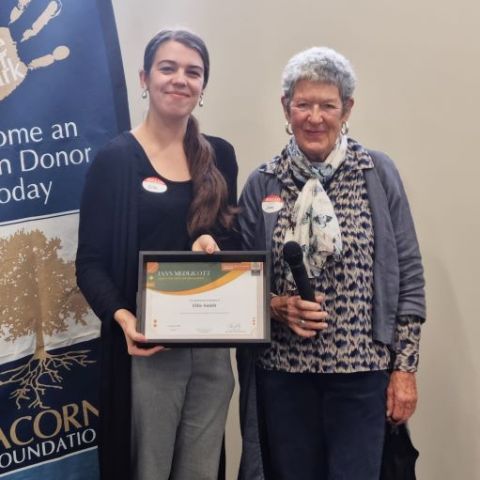 We are delighted to announce the 2021 recipient of the Jann Medlicott Creative Arts Scholarship: Ellie Smith! Ellie received the award from Acorn donor and sponsor of the scholarship, Jann Medlicott, at our Morning Tea event in Tauranga earlier this week.
A former student of Tauranga Girls College, Ellie says she is 'thrilled' to receive the scholarship, which will provide $5,000 in financial assistance as she completes a Master of Arts in Museum Studies at Massey University. Her thesis research is focusing on what art museums and galleries in Aotearoa New Zealand are doing for the blind and low vision community through their programmes.
Speaking at Acorn's Distributions Morning Tea in Tauranga earlier this week, Ellie told us, "I am incredibly grateful to Jann Medlicott and the selection panel for this scholarship, which will be a massive help for the remainder of my studies. Since completing my degree in Art History and Classical Studies at the University of Auckland, and a postgraduate diploma in Museum Studies from Massey University, I returned to Tauranga for a position at Tauranga Art Gallery. I have since been involved in several arts projects around the city including Supercut Projects' CITY ART WALK and Creative Bay of Plenty's Creative Patapatai. I am committed to playing my part in contributing to our exciting and developing arts and culture scene in Tauranga."
Thanks to the incredible generosity of local Acorn donor, Jann Medlicott, Ellie is now the tenth recipient of this annual award. The purpose of the award, which is administered by Creative Bay of Plenty, is to assist students preparing for a career in the creative arts. Encompassing a wide field of studies, previous recipients have ranged from musicians and dancers to actors, graphic artists, and even a tattoo artist!
Lori Luke, Acorn Foundation CEO says, "We are so grateful to Acorn's generous donor, Jann Medlicott, for giving such a wonderful gift, year after year, to aspiring creatives in the WBOP region. Our congratulations go to Ellie, whose passion for, and demonstrated commitment to, Tauranga's arts and culture scene make her a deserving recipient indeed. We wish her all the best in her studies and look forward to watching as her career in the creative arts unfolds."
Further information about Acorn Foundation scholarships can be found here.