10 Nov 2020
Celebrating the 2020 Page Acorn Engineering Scholarship Winners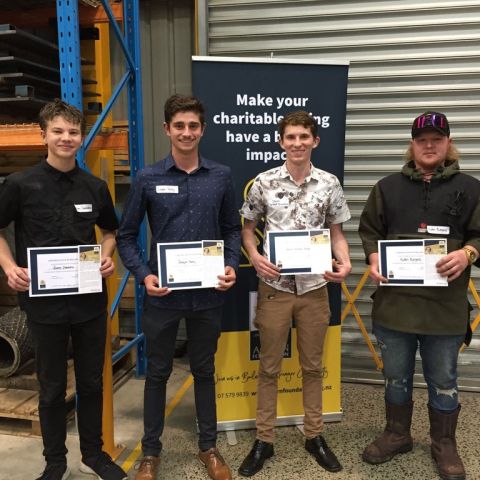 The Acorn team were delighted to (finally) celebrate the five winners of the 2020 Page Acorn Engineering Scholarships which were awarded back in April this year. Covid postponed the May celebration but we were finally able to get together with our winners and their families to celebrate their achievement. A very big thank you to Kevin & Vanessa O'Dea at Robert Page Engineering who hosted us for this event.
Pictured above are (left to right):
James Deelstra: Robert Page Engineering
Joseph Terry: Page Macrae
David Turnbull-Broadfoot: Contract Mechanical Services
Kullen Burgess: Impact Engineering
[Absent] Braden Strong: Page Macrae
The Page Acorn Engineering Scholarships were set up by Bob and Pat Page to support apprentices entering the trades and the scholarships were first awarded in 2009. Including the five winners in 2020, this fund has now provided a total of 52 scholarships to engineering apprentices. What a fantastic legacy Bob and Pat have left behind.
When the late Pat Page attended the 2011 Awards function, she said.
"For many years my husband Bob was on the apprenticeship board. One day he came home, not his usual self but a very saddened man. I poured him a whisky and asked what was wrong. He told me that the apprenticeship scheme had come to an end, which I believe was a government move. Then Bob said, "The tragedy is that in a few years' time there will be a dreadful shortage of builders, plumbers, electricians, fitters and turners, engineers and many other trades people, who have had the luxury of an apprenticeship".
Bob Page had a dream which his wife Pat saw through to fruition. The scholarship selection process is assisted by Pete Frewin, Alastair Coleman and Neil Spring who all sit on the selection panel and whose support over the years has been greatly appreciated.
Congratulations to all of this year's winners - the Page Acorn scholarship is a wonderful achievement that you, your family and your employer should all celebrate!