07 Jul 2023
Celebration of Dale Carnegie 2023 Scholarship Winners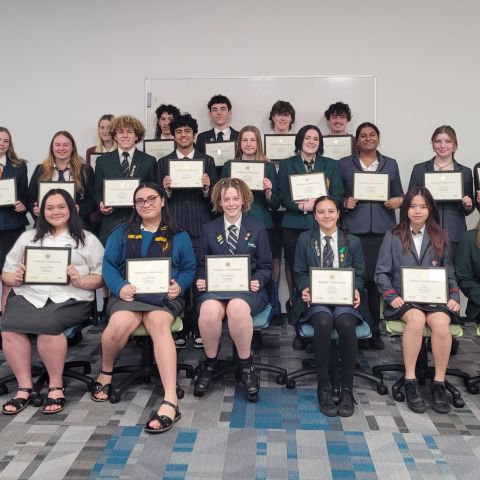 On Thursday, 29 June, 22 students from schools across the Western Bay of Plenty were excited to receive their graduation certificates for completing the 2023 Acorn Foundation Dale Carnegie Youth Programme. The estate of the late Mary and Roy McGowan funded these scholarships that have been offered since 2010.
"Thanks to this wonderful support from Acorn donors Roy and Mary McGowan, 321 local students have been provided a scholarship to attend a youth version of a course that has taught skills for success in the professional and personal lives of millions of people around the world," says Acorn Foundation CEO, Lori Luke.
Year 13 students from 10 Western Bay of Plenty schools were selected for this programme. This three-day course teaches the Dale Carnegie five drivers of success: building greater self-confidence; strengthening people skills; enhancing communication skills; developing leadership skills; and reducing stress and worry. The Acorn Foundation has long partnered with Dale Carnegie BOP Waikato and Priority One's InStep programme to offer this youth-focussed course that helps young people improve their self-confidence and personal communication techniques.
Each of the students gave a short speech during the graduation ceremony about what they had learned – an act many mentioned they would never have the confidence to do before attending the course.
At the end of the course, students were asked for some feedback on their experience and what they would tell future students before starting the course.
Lauren Wilson from Tauranga Girls College said the major benefits of the course were, "being able to communicate with others no matter what the subject, while understanding their viewpoint."
Echo Clifton from Katikati College told us: "Over three days, you will learn so much about yourself and your own abilities by putting your enthusiasm into everything you do."
Congratulations to the following scholarship winners:
ACG Tauranga: Henrietta Davenport and Chase Rudkin
Aquinas College: Maia Hetutu, Jose Farrell and Daniel Coster
Katikati College: Echo Clifton and Jorja McKeown
Mt. Maunganui College: Anjali Kumar, Trang Vu and Rowan Carey
Otumoetai College: Angus Scott and Mia Mackenzie
Papamoa College: Kaitlin Dunn and Willem Koning
Tauranga Boys' College: Saad Aamir and Elliot Hayes
Tauranga Girls' College: Lauren Wilson and Aimee Unwin
Te Puke High School: Blake Scott and Mya Clarke
Te Wharekura o Mauao: Amika Rangi-Dixon and Oceanee Tukaki-Smith
Learn more about scholarships awarded by the Acorn Foundation here.