12 Dec 2019
Jack Egan and Olive Pearce win the 2019 Christine Tustain Sports Award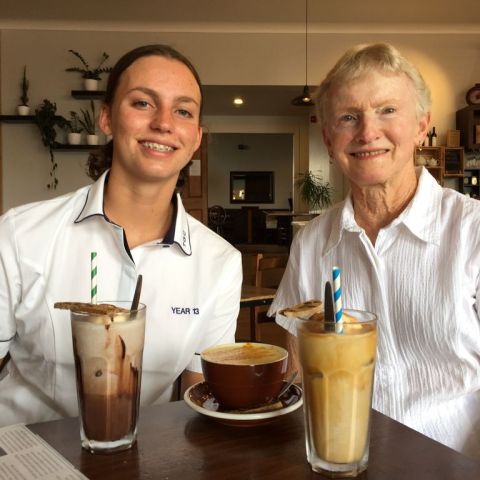 We are delighted to see two outstanding sports people take the Christine Tustain Sports Award for 2019:
Jack Egan (Tauranga) – Canoe Slalom
In July 2019 Jack attended the Junior and U23 World Canoe Slalom Championships where he placed 9th for under 18. This is the first time that a New Zealander has made the finals and placed this high. He has also received the award for the top ranked New Zealand canoeist for the last two years. Jack is involved in volunteer coaching and is on the Canoe Slalom Bay of Plenty committee as an asset manager.
Jack has been selected for the NZ Junior Canoe Slalom team who will be competing at the Australian Open and Oceania Canoe Slalom Championships in Penrith.
Olive Pearce (Tauranga) – Surf Lifesaving [pictured above with donor, Christine Tustain]
In March 2019 Olive was selected to be a part of the Surf Lifesaving NZ High Performance Youth (U19) Squad. In 2020 as a member of the Mount Maunganui Lifeguard Service Olive will travel to the Gold Coast for the Australian Surf Lifesaving National Championships and the Australian Pool Rescue Championships. Olive's goal is to be selected for the NZ Surf Lifesaving team who will compete at the 2020 Surf Lifesaving World Championships in Italy in September 2020. Olive is currently in the NZ Squad.
Well done to you both Jack and Olive - great achievements!