24 Sep 2019
Events: Community Celebrations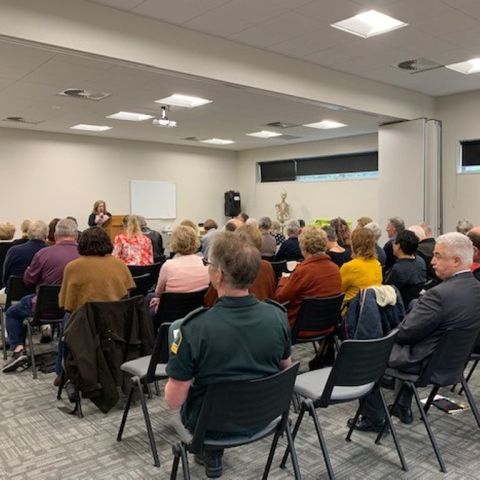 Acorn held three celebration morning teas in September, located in Katikati, Te Puke and Tauranga.
KATIKATI: Thanks to all the Acorn supporters who joined us at the Katikati Community Centre on Monday 16 September to celebrate our 2019 Community Distributions. Grant recipient speakers included: our host, Allan Wainwright, Hilary Johnson of Katikati Innovative Horticulture Trust, Michelle Elborn and Brian Ireland of Bay Conservation Alliance and Jacqui Knight of Katch Katikati.
We were especially pleased to enjoy a performance by Katikati College student, Louie Campbell, the 2019 Jan Medlicott Creative Arts Award winner!
TE PUKE: Again, we extend our thanks and appreciation to all the supporters who joined us at the St John Te Puke building to celebrate distributions made in the Te Puke community. Our fabulous recipient speakers included: our host Lyn Govenlock , Foodbank Manager, Clare Cooper and Community Social Worker, Georgie Faye-Attwood of EmpowermentNZ, Janice Belgrave of Papamoa Family Services, Jo Morgan and Shard Loibl of Baywide Community Law talked about the critical housing advocacy work being done by their organisation, and local Outward Bound scholarship winner, PJ Reihana from Te Puke High School shared his experiences.
TAURANGA: We had over 60 supporters turn out to celebrate with us in Tauranga! A big thank you once again to St John Tauranga who hosted the event. Our recipient speakers included: our host Jeremy Gooders of St John Tauranga, Guy Malthus of Craigs Investment Partners, Charlie Windell of Dress for Success BOP, Annamarie Angus of Tauranga Moana Mens Nightshelter Trust, Andrew Buckley from Male Survivors BOP, and winner of the Tauranga Girls College Walters Travel Award, Akira McTavish-Huriwai.
It is always wonderful to see the generous gifts from Acorn donors in action in our community!
Thank you to all speakers and attendees for making these community celebrations such a success. It is so humbling to hear from our recipient organisations, and we love to see and meet so many donors and members of the community also.