15 Nov 2022
FAME Trust winner selected at Victoria University of Wellington—Te Herenga Waka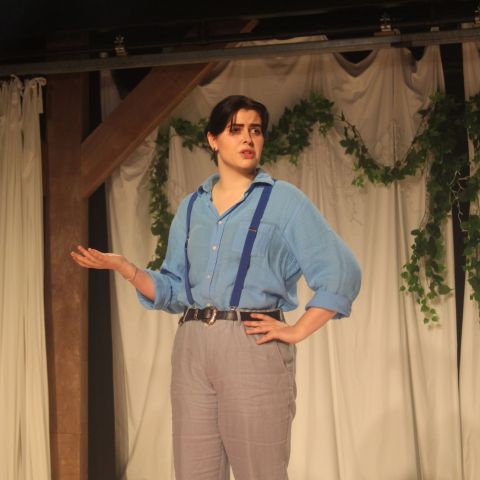 The FAME Trust and Acorn Foundation in Tauranga are pleased to announce the 2022 winner of the Emerging Practitioner Award at the Victoria University of Wellington—Te Herenga Waka. This school is one of seven top-rated performing arts programmes in New Zealand which are each granted an annual $10,000 scholarship to offer promising students who have completed at least one year of tertiary study.
India Worsnop, a 3rd year student completing her Bachelor of Arts degree with a double major in Theatre and Film, was selected for this prestigious award. India went to college at Takapuna Grammar School in Auckland and is passionate about all stages of theatre: acting, playwriting, marketing, scenography, directing, stage management, production management, and musical direction. She is very involved in theatre outside of school, working at workshops at the Sheila Wynn festival, performing at the Six Degrees Festival, and launching a theatre company called Stuff & Things Theatre as a vessel for producing self-written work. Most recently, India was selected to represent Victoria in the HATCH programme at the 2022 TAHI Festival.
India said, "I am truly so thankful to the FAME Trust for supporting me to take the next step in my tertiary education in theatre. Our industry is extremely sparse in financial aid for emerging practitioners, and scholarships like the FAME Emerging Practitioner Award are instrumental in encouraging young people like myself to contribute positively to the arts sector. They have made my post-graduate plans a reality."
In her master's programme, India plans to focus on production management and marketing, as she has a strong interest in the business of theatre. She will be working on publicity and content creation while working on Much Ado About Nothing at the university, and in the same role for The Princess & The Knight V2, a TBC Fringe show.
Dr Kerryn Palmer, Master of Fine Arts co-ordinator at Victoria University: "India is an outstanding student with a passion to create excellent theatre work. She was unsure about whether she could confidently afford to do the MFA(CP) next, and the FAME award has ensured that India will continue to be an integral part of our programme. I am delighted that India has been awarded this scholarship."