23 Sep 2020
Morning tea in the regions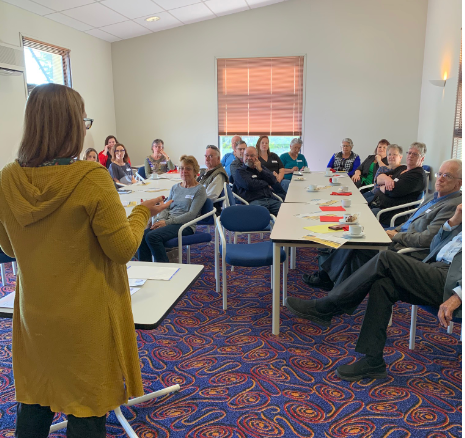 Earlier this week, the Acorn team headed out to both Katikati and Te Puke to host morning teas with our regional donors, supporters and recipient groups. We thoroughly enjoy connecting with people in these regions, and continue to be so impressed with the hard work and collaboration that both of these centres are undertaking.
Katikati's morning tea on Monday was hosted by Allan and his wonderful team at the Katikati Community Centre, who also shared with us the remarkable and encouraging way the community came together to support those in need during lockdown. We also heard similar stories from Trudy who travelled over from the Waihi Beach Community Centre, who, along with her team of volunteers, worked tirelessly throughout lockdown to ensure the older Waihi Beach community were not left alone and isolated. Trudy also runs A Friends Place, which is run out of the community centre and brings together social groups of the Waihi Beach community for various weekly programmes such as cards, music, discussion group, board games, art etc. We really take our hats off to both of these community centres who are truly encompassing the community spirit and showing just how essential our regional community centres are.
Speaking at both the Katikati and Te Puke morning teas were Plunket and Blue Light Ventures. Trish Valois from Plunket shared how her new role has grown and evolved since she joined the team right on the cusp of lockdown. It was very obvious to all who attended just how broad the scope of services and support Plunket provides has become, far beyond the visits of Plunket nurses to newborns and their families. Trish and the rest of the Plunket team are very involved in providing wraparound services and facilitating connections where needed from family to family.
Wendy Robertson from Blue Light provided an update on the fabulous young driver education programme which Blue Light facilitates, covering both the Katikati and Te Puke regions. Blue Light's programme supports youth whose families may not have the financial means, time, ability or vehicle to teach their teenagers to drive. A licence is often a basic requirement for employment, continued study or basic family support and can be difficult to obtain for some youth. Driving without a license leads to fines and negative interactions with police which can snowball and eventually become an unwelcome introduction to the youth justice system and all it entails.
In Te Puke, Boyd Harris from Pukehina Surf Rescue shared the remarkable amount of work undertaken, and services provided, by this entirely voluntary organisation. The engagement with the Pukehina community has increased substantially, with both parents and children coming on board to participate. The Club runs many training sessions and also organises out of town training camps at low cost for families to attend. What Pukehina Surf Rescue is achieving is remarkable and a testament to the work undertaken by Boyd and his team.
And finally, at our Te Puke morning Tea, we heard from Runa and Shirley from Tauranga Budget Advisory Services, who provide advice and services to the Te Puke community via EmpowermentNZ. It was apparent to all just how much Runa enjoys working with individuals and families in Te Puke. Her aim is to assist them to become debt free and educate them financially to reduce costs, while tailoring those services to each individual/family in a way that is encouraging and respectful. aIt was wonderful to hear from each of these organisations and we appreciate their time to speak with us. We will hold a similar evening function in Tauranga at our AGM in November.