22 Apr 2021
New Zealand's literary giants honour benefactor, Jann Medlicott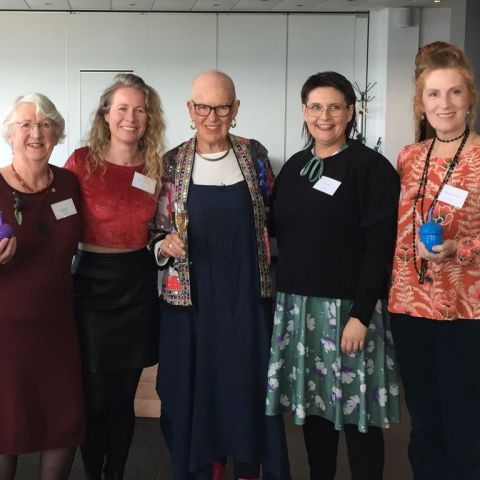 [Pictured above, left to right: Dame Fiona Kidman, Becky Manawatu, Jann Medlicott, Pip Adam, Catherine Chidgey]
A recent Sunday lunch at the Tauranga Club was more special than most. A quartet of New Zealand's best fiction writers gathered with friends and family to honour local Jann Medlicott, whose generosity provides the national fiction prize at the Ockham New Zealand Book Awards.
The Jann Medlicott Acorn Prize for Fiction—previously called the Acorn Foundation Fiction Prize—has been awarded since 2016. First winner Stephen Daisley (Coming Rain) sent his apologies from Australia. Medlicott and her guests were thrilled to hear from the other winners:
2017: Catherine Chidgey, The Wish Child
2018: Pip Adams, The New Animals
2019: Dame Fiona Kidman, This Mortal Boy
2020: Becky Manawatu, Auē
Acorn Foundation Donor and Community Engagement Manager, Margot McCool, said, "The impact of Jann's generosity in providing this annual prize was very evident in the highly personal stories shared by our winners, of the ways they had put the funds to use. Make no mistake, whilst we have writers whose work deservedly sits alongside the top works of fiction anywhere in the world, they have not previously had the recognition they so deserve. This award goes some way towards addressing that."
Jann is currently receiving further treatment for cancer and was thrilled to have the support of close friends and family at this very special gathering.