08 Mar 2023
Ockham New Zealand Book Awards Shortlist showcases a wide variety of excellent work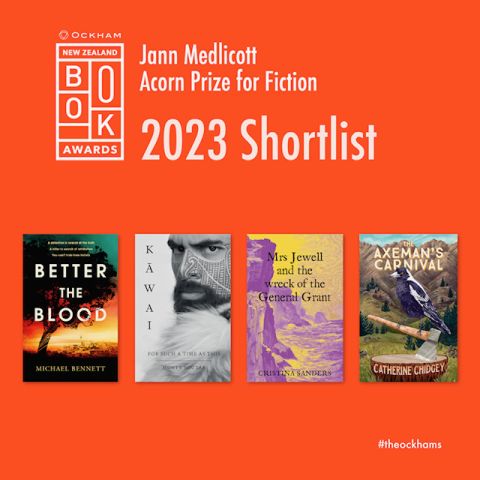 Bestselling books by both debut writers and established literary luminaries feature among the 16 finalists in the 2023 Ockham New Zealand Book Awards announced today.
The shortlist – selected from a longlist of 44 books by four panels of specialist judges (for fiction, poetry, illustrated non-fiction and general non-fiction) – offers entertaining and enriching reading experiences that traverse Aotearoa's cultural and physical landscapes, revealing relationships and deepening our understanding of the world.
Stephanie Johnson, convenor of judges for the Jann Medlicott Acorn Prize for Fiction, says the finalists in this category vividly demonstrate the excellent quality of a wide variety of work produced in the last year.
"Two stellar historical novels rival for their portrayal of lost worlds, one set in eighteenth-century Aotearoa, the other on a nineteenth-century sub-Antarctic island. And in the other two finalists, contemporary New Zealand, urban and rural, is vividly and memorably evoked in tightly written crime and through the eyes of a wild but insightful bird."
British writer, publisher and host of the books podcast Backlisted, John Mitchinson, will assist the three New Zealand judges to select the fiction winner.
The 2023 Ockham New Zealand Book Awards shortlisted titles are:
*represents debut authors
Jann Medlicott Acorn Prize for Fiction
Better the Blood by Michael Bennett (Ngāti Pikiao, Ngāti Whakaue) (Simon & Schuster)
Kāwai: For Such a Time as This by Monty Soutar (Ngāti Porou, Ngāti Awa, Ngāi Tai ki Tāmaki, Ngāti Kahungunu) (Bateman Books)
Mrs Jewell and the Wreck of the General Grant by Cristina Sanders (The Cuba Press)
The Axeman's Carnival by Catherine Chidgey (Te Herenga Waka University Press)
New Zealand Book Awards Trust Te Ohu Tiaki i Te Rau Hiringa spokesperson Jenna Todd says this year's shortlist is a treasure trove to celebrate.
"There is not one dominating publisher this year, with a range of 12 publishers shortlisted across 16 titles.
"Many of these books, across all categories, delve deeply into strong personal narratives. They offer tales of tension, distrust and revenge, treating readers to vivid explorations of aspects of Aotearoa's history.
"Subjects and characters are treated with the utmost of care, critical thought, and examination.
"This group of writers, both venerated and emerging, steers you towards laughter, wonder and new knowledge."
The 2023 Ockham New Zealand Book Award's winners, including four Best First Book Awards recipients which are this year supported by the Mātātuhi Foundation, will be announced at a public ceremony on 17 May during the 2023 Auckland Writers Festival.

To find out more about the shortlisted titles go to https://www.nzbookawards.nz/new-zealand-book-awards/2023-awards/shortlist/