16 Mar 2021
Acorn's recent 'Supporters & Friends' function packs a punch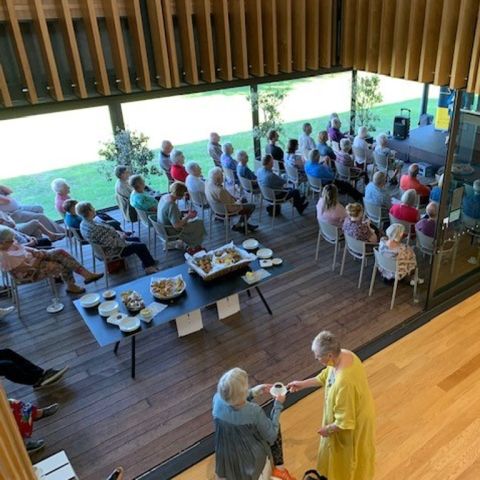 Over 70 Acorn friends and supporters joined us for morning tea on Saturday 13 March for our annual donor function. Held in The Kollective's pavilion area, we think we speak for all when we say we felt incredibly privileged to have our recipient groups and Waikato University scholarship winner share their amazing stories with us. Speakers on the day included:
Whitney Smith from Philips Search & Rescue Trust, the organisation who oversees our region's rescue helicopter; Kylie Oliver, 2020's Acorn Foundation Waikato University Adult Learner Scholarship winner who bravely shared her powerful story with us; Mark and Shirley from Brain Injured Children Trust who know first-hand just how valuable this organisation can be to young people with severe brain injuries; and Craig Nees from BOP Youth Development Trust's Tauranga Boxing Academy, who are doing great work with our youth and their whanau.
Acorn's Margot McCool also provided synopses for the four books shortlisted for the 2021 Jann Medlicott Acorn Prize for Fiction award, being announced in May. For more on the shortlisted books, click here.
A very big thank you to our speakers who gave up their time to share their stories with us, and to our many friends and supporters who attended – it is a pleasure to spend a Saturday morning with you all!
From one of our attending donors: "Tears, sadness, hope, inspiration, awe--what a range of emotions we experienced during Saturday's Donor and Friends event! It was a reminder of our lucky we are, how important it is to work together to support those less fortunate and the difference that support can make."