19 Sep 2022
Supporting what you love, long after you've gone - Claude & Marjory Hewlett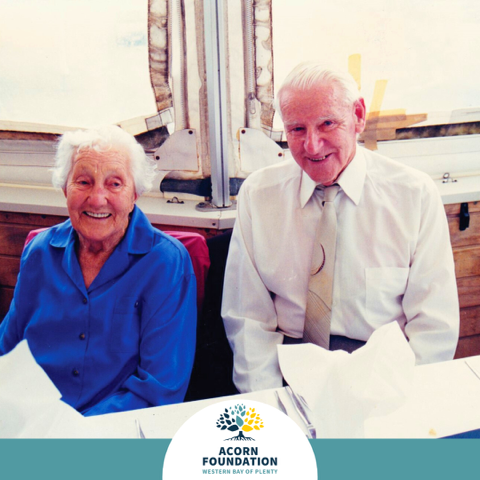 Claude: 2 Feb 1921 – 12 Aug 2020 Marjory: 6 Oct 1914 – 18 Aug 2008

For Claude Hewlett, this saying meant providing a significant annual funding stream to the horses he loved, and the people who need them, well into the future.
Claude left school at 13 to go farming before being drafted into the army to fight in World War II. He was a gunner in Italy before serving as a peacekeeper on the Yugoslav border. He returned to farming after the war and reconnected with Marjory, who he had met when they both worked on a Pongakawa farm. Marjory and Claude married in 1946 and Claude continued farming until 1954, when they moved to Tauranga. Claude began work as a builder and Marjory worked as a supervisor at the nurses' home at Tauranga Hospital.
It was Marjory who first introduced Claude to horses, and it's hard to imagine his life without them. He spent 43 years involved with the Greerton Pony Club and was president of the Papamoa Pony Club for five years. Claude also organised the horse sports at the Tauranga A & P Show for 19 years. As a founding member and then President of the Tauranga District Riding for the Disabled for 25 years, it is only fitting that Claude and Marjory's endowment fund is directed towards supporting this organisation in the WBOP.
Tauranga Riding for the Disabled provides equine assisted therapy and rehabilitation for children and adults suffering from physical, emotional and mental health impairments. Riders also attend to achieve therapeutic, educational or sporting goals, and the organisation also provides programmes for at risk youth and young offenders.
"We are extremely grateful for the support we have received from Claude and Marjory Hewlett. Having the certainty of this annual funding will help us plan for the future and to continue helping those in need within our community," said Elisha Olds, General Manager Tauranga Riding for the Disabled.
Besides the more formal roles in his life, Claude spent much of his time as an informal social worker visiting older people, especially returned soldiers and helping with their shopping and chores. Those who new him described Claude as a perfect gentlemen. He was in his one hundredth year when he died.