23 Jul 2019
Scholarships: TGC Students Flying to New Heights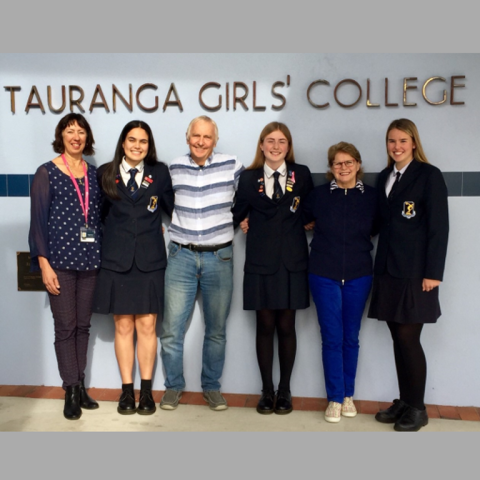 [Pictured above: Margot McCool (Acorn Foundation), Akira McTavish-Huriwai, Kevin Walters (Donor), Hannah Rose, Jean Walters (Donor), Paris Allum]
Thanks to the generosity of Acorn Foundation donors Kevin and Jean Walters, three Tauranga Girls' College students have received a helping hand towards their costs of travel for very significant events they will be attending in a few months' time.
Current Deputy Head Girl of Learning Akira McTavish-Huriwai will be joining the 2020 United Nations Global Development Tour in early January – a trip that takes 22 of New Zealand's brightest delegates to cities such as New York, London, Rome, Vienna, Berlin and Paris, to learn more about vital world issues such as sustainable development, diplomacy and international relations. Akira is passionate about global issues and hopes one day to work for the United Nations.
Year 12 students Hannah Rose and Paris Allum are part of a school group heading to Borneo for three weeks at the end of this year. The trip involves a range of diverse experiences, including working with local people on a community project for one week, a trek, and further sightseeing.
Having had the opportunity to travel to over 30 countries and live with other cultures, and understanding the life changing experiences that came with that, Kevin and Jean Walters set up the Tauranga Girls' College annual award through the Acorn Foundation to assist students to travel and broaden their outlook on life.