02 Nov 2022
University of Waikato honours FAME Trust winner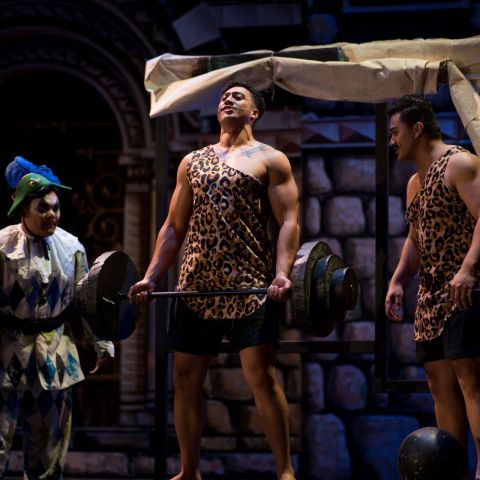 The Tauranga-based trustees of the FAME Trust, in conjunction with the Acorn Foundation, are pleased to announce the selection for the 2022 Emerging Practitioner Award recipient at the University of Waikato. This programme is one of seven top-rated performing arts schools in New Zealand which are each granted an annual $10,000 scholarship to offer promising students who have completed at least one year of tertiary study.
Alfred Fonoti-Fuimaono is a Samoan operatic baritone from Flaxmere, Hastings who is currently studying towards the completion of his Honours for his BMUS in Classical Performance at the University of Waikato. Alfred has starred at the University of Waikato Conservatorium of Music, playing the title role in 2022 of Gianni Schicchi in Puccini's play of the same name and playing the major roles of Crespel and Lindorf in The Tales of Hoffman. In addition to his university roles, Alfred has been accepted to the New Zealand Opera Company for several years and has been casted to cover the role of Orpheus in the 2023 production of (m)Orpheus. Also in 2022, Alfred was a guest soloist for both the Trust Waikato Symphony Orchestra and for Chamber Music New Zealand.
Alfred feels blessed to have won the Fame Trust award, saying, "I'm especially grateful for the Acorn Foundation and the FAME Trust, who continue to fund this award for aspiring artists. Many of us cannot realise our dreams without their support. This award allows me to take the next step in my career, alleviating many costly necessities such as extra tuition, workshops with top teachers and coaches, and travel costs for auditions abroad."
While attending Hasting Boys' High, Alfred participated in Project Prima Volta, a music programme that helps to empower young people through the art of classical music. This programme inspired his passion for classical music, and he and his brothers formed ALOFA, an operatic quartet of classically trained singers who perform all over New Zealand.
Kristin Darragh, Director of Performance in Voice, at the University of Waikato sees enormous potential in Alfred. She said, "I am delighted that Alfred Fonoti-Fuimaono has been selected as the FAME Emerging Practitioner Award recipient for 2022. His vocal quality is remarkable, and his development as a performer with presence and charisma is extremely exciting. With the potential he displays, it is easy to imagine him on the world opera stage. I would like to thank the Acorn Foundation and FAME trustees for rewarding this very promising young artist."