19 May 2023
The winner of the $64,000 Jann Medlicott Acorn Prize for Fiction for 2023 has been announced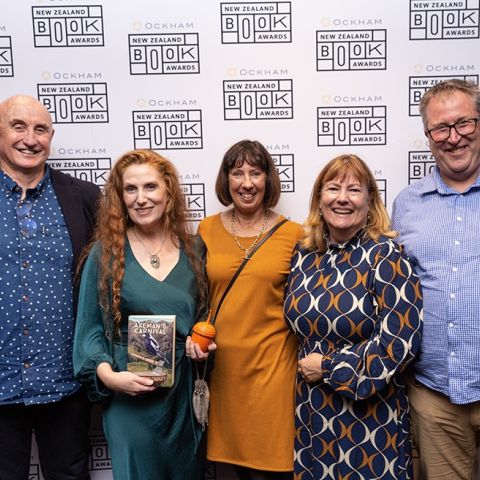 The prestigious Jann Medlicott Acorn Prize for Fiction winner was announced this week at the 2023 Ockham New Zealand Book Awards. The awards were attended by Acorn's Chair Lesley Jensen and Trustees Brian Cloughley and Michael Attwood. Acorn staff member Margot McCool was given the pleasure of awarding the Acorn to Catherine Chidgey a two-time winner.
The award has been offered since 2016 thanks to the late Acorn supporter Jann Medlicott, and it was awarded this year for Catherines' novel The Axeman's Carnival.
The Fiction category's convenor of judges, Stephanie Johnson, says The Axeman's Carnival is a novel that has been clasped to New Zealanders' hearts.
"The unforgettable Tama (magpie) – taken in and raised by Marnie on the Te Waipounamu high country farm she shares with champion axeman husband Rob – constantly entertains with his take on the foibles and dramas of his human companions. Catherine Chidgey's writing is masterful, and the underlying sense of dread as the story unfolds is shot through with humour and humanity.
"The Axeman's Carnival is unique: poetic, profound and a powerfully compelling read from start to finish."
This is Catherine's second win at the Ockham New Zealand Book Awards. She won the Acorn Foundation Fiction Prize in 2017 for The Wish Child. Both books are published by Te Herenga Waka University Press.
Read more about this year's Ockham NZ Book Awards winners here.